EzFlow'n Fire Pump Test Trailer
Speed of operation, precise accuracy, ease of operation, cost savings, increased revenues and environmentally enhanced!
Watch the EzFlow'n Fire Pump Test video Flowing 2250gpm
Watch video on YouTube
Download a copy of the EzFlow'n Brochure/Fact Sheet.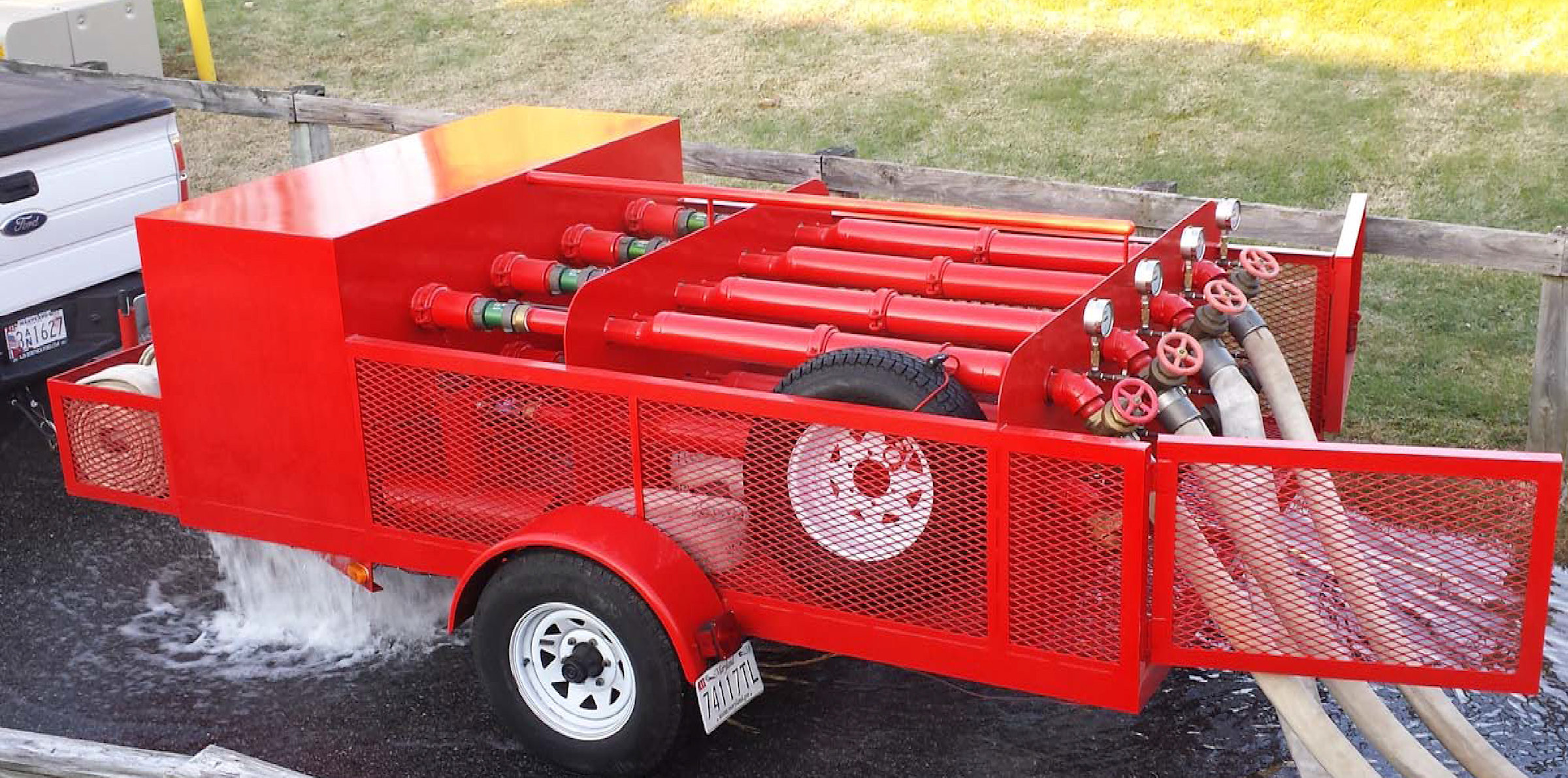 The flow unit can be custom built to flow whatever you request. The EzFlow'n Unit pictured above is the 2000 series able to flow up to 3750gpm.
---
Speed of Operation
The unit is completely ready to use the moment you arrive onsite.  Just connect the supplied hoses to the buildings test header and begin testing.
Excessive set-up time has been eliminated.
Area of water discharge has been reduced to the bottom of the EzFlow'n unit allowing flexibility in testing in tight areas or narrow alleyways.
Having the remote header with all flow device controls at one location allows a single operator to dial in multiple flows rapidly.
---
Accuracy
The EzFlow'n unit with its unique design provides a smooth flow of water, the ability to read flow gages at one remote location and less movement in the gauge, thus resulting in more accurate flow test readings.
The EzFlow'n design provides a smoother flow of water resulting in less movement of the test gauge.
Having all flow test gauges at one remote location, you are able to read each gauge independently reducing the overflow or underflow of water.
The EzFlow'n unit is designed to use 3-inch fire hoses. The 3-inch fire hoses provide better flow with less friction losses, especially when exceeding 50 feet of hose per nozzle.
Note: The design, quality and accuracy of the gauges are critical when testing fire pumps. A fire pump can pass or fail depending upon the reading of a simple pitot tube. Often the gauge on the tube fluctuates and a "best guess" reading is obtained.  The design of the EzFlow'n unit minimizes this problem based on using acceptable gages.
The recommended gauges used at the EzFlow'n unit must be glycerine filled accurate to 1%.  The range of the gauges must not exceed 0 to 60 psi.
The recommended gauges used at the fire pump must be glycerine filled accurate to ½%.  The range of the gauges must not exceed 0 to 300 psi.
Note: Water pressure gauges are normally less accurate in the lower and upper 10% of the scale. Using a 0-300 psi gauge is less accurate in the 0 to 30 and 270-300 psi range. With the 60 psi gauges, most readings are taken in the 10-35 psi range where accuracy is at its peak.
(All gauges will require recalibration each year by a certified UL Listed testing laboratory.)
---
Ease of Operation
The EzFlow'n unit is designed for two-person operation, one at the fire pump, and one at the EzFlow'n unit.  All controls, gauges, valves, etc. are located in one place. The EzFlow'nw unit has been designed so any one person, who is mechanically-inclined, can operate this unit.
One day of "on-the-job experience" is all the training needed for new operators.
No special qualifications, certifications or training is required to operate the EEzFlow'n unit.
Operator should be capable of operating a vehicle with a trailer attached, able to read and record pressure gauge readings, as well as handle a three-inch-diameter rubber lined hose.
---
Environmentally-Friendly
Uses less water because of the ease of operation and centrality of operations; water is flowing for only about one-quarter of the time. This means:
Significantly less water is wasted.
The job is completed in less time.
The operator is not exposed to water or water spray, increasing the temperature extremes in which the pumps can be tested.
Damage to parking lots, landscaping, etc. is minimized.
---
Cost Savings and Increased Revenues
The EzFlow'n unit has been designed not only to provide accurate testing results, it also allows you to schedule more fire pump testing in a single day.
The EzFlow'n unit requires two persons to run a complete test. The third person is no longer needed.
The person operating the EzFlow'n unit does not have to be experienced in fire pump testing. Only trained in the proper procedures in operating fire hoses, dialing in and recording readings. Therefore a low dollar-per- hour apprentice can perform this test.
The estimated cost savings on eliminating one employee with a total cost of $20 per hour (including tax, insurance, workman compensation, travel time etc.) is estimated at two hours -- saving you $40 per test.
Increasing fire pump testing in a single day (estimated from three to four tests per day to six to seven tests per day). Based on charging a customer $750 per test, your gross income could increase by $2,250 per day. Also, being able to schedule more fire pump tests in a single day, your technicians can work on other projects making you additional revenue.
If you have at least 50 fire pump tests scheduled in a single year, this unit could pay for itself in approximately 2-½ years. Thus, the more tests you do, the more money you can save and the quicker the EasyFlow unit pays for itself.
For example: Take 50 pump tests divided by four tests per day equals 12.5 days. Increasing to seven pump tests per day, 50 pump tests divided by seven equals 7.5 days. You are saving five days per year. By performing more fire pump tests in a single day, knowing your labor costs will be unchanged, you are able to bill an additional $2,250 per day. Having five free days, you could potentially earn an additional $11,250 per year.
Calculating the cost savings not needing the third person, 50 fire pump tests times $40 per test (as calculated above) equals a potential cost savings of $2,000 in labor costs alone.
Calculating the increased revenue using the five days saved working on other projects due to increasing the amount of fire pump tests per day. Based on a total cost of two men at $35 each per hour (including tax, insurance, workman compensation, travel time etc.), at eight hours per day for five days equals $2,800.
Your potential cost savings is estimated at $16,050 per year, more/less.
---
Your EzFlow'n Unit Includes...
As is shown in picture, the EzFlow'n Unit includes:
A fixed trailer with 2' 5/16" ball hitch.
Heavy duty axel with steel belted 8‐ply heavy duty tires.
Electric brakes rough in (not required but provided on stock axel).
Hydro flow Pitotless Nozzles 7‐1 ¾ inch and 1‐1 1/8 inch (customer requested nozzle sizes).
Brass 2-½ inch hose valves.
Quick connect gage couplings (both female and male ends).
Pitot tube bleed off ¼ inch brass valves.
Front of trailer hose rack.
Operational training and safety video.
---
Your "Ready-to-Go" Options Include...
At an additional cost, you unit can include:
Calibrated water gauges. 8 – 0‐60psi 1% accuracy 4-inch face UL Listed glycerin filled
Protective foam gauge case
Electric brake wiring harness (If requested)
Eight lengths of 3-inch diameter 50-foot hose custom made (female x female)
Eight lengths of 3-inch diameter 25-foot hose custom made (female x female)
EzFlow'n storage cover (For storage only. Not intended for travel)
---